1 Jan 2022 - 17:00 > 24 Juil 2024 - 19:00
ATTENTION OUVERTURE EXCEPTIONNELLE A 17H00!!
Tous à poil le samedi après midi au Krash ! La NAKED PARTY c'est 100% NATURISTE !
Philippe vous reçoit pour l'après midi la plus chaude de la semaine… Comme quoi y a mieux à faire que les courses au BHV le samedi après midi dans le Marais !
Happy hour de 18h à 22h sur la bière pression (et la limonade…)
All naked on Saturday afternoon at Krash!
Philippe welcomes you to the hottest afternoon of the week … And it's better than shopping at BHV on Saturday afternoon in the Marais!
Happy hour from 18h to 22h on the beer on the tap (and lemonade …)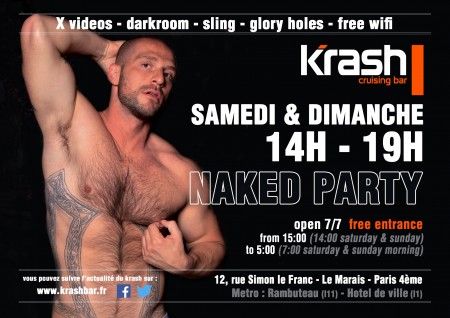 Synchronisation Agenda
Cliquez sur
ICAL
pour inscrire cet événement dans votre agenda ICal.
Click on
ICAL
write this event in your ICal agenda.
Comment venir ? How to come ?